American Chamber of Commerce & Industry of Panama

Association of American Chambers of Commerce in Latin America and the Caribbean

Through its 24 AmChams AACCLA represents more than 20,000 companies and over 80% of U.S. investment in the region.

Join us! AMCHAM / AACCLA Volunteer Day

Saturday, August 26th
8:00 a.m. - 12:30 p.m.
News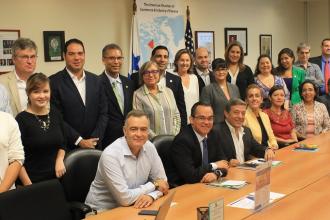 July 21, 2017 - 9:20 AM EST
On Tuesday, July 18th, our Executive Director Susana Uranga, Board of Directors members and Committee Chairs welcomed our new members during the Newcomer's Breakfast.
July 17, 2017 - 9:04 AM EST
July 14, 2017 - 9:01 AM EST
June 30, 2017 - 9:52 AM EST
Platinum Leadership Circle